ProTerm
Isothermal insulation
Isothermal insulation 100% ecological
Avoid damage caused by temperature changes during transportation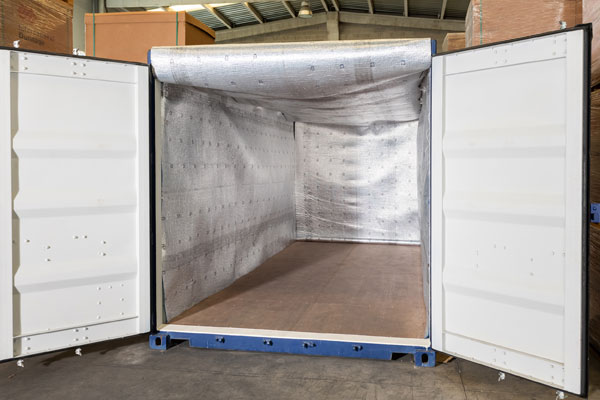 Why should I use isothermal insulators?
During the trip, especially long-distance routes, some products require specific environmental conditions for their conservation.
With the thermal insulators, transport in a specific container will be avoided.
The ProTerm range allows thermal insulation of the container or surface so as not to compromise the condition of the merchandise.
100% ecological insulation to avoid damage to the merchandise
Provide your cargo with the specific environmental conditions for its conservation
This system is ideal for products that are sensitive to changes in temperature (hot and cold) such as wine, water, chemical products, pharmaceutical products, oils, paints, fruit, electronics…
Different sizes and covers
We have isothermal insulation for 20′ and 40′ containers and we manufacture covers for pallets in various sizes.
Protect merchandise from sudden changes in temperature
The ProTerm Container system is used to line 20′ and 40′ sea containers. Its double inner core of air bubbles acts as an insulator, preventing the thermal transfer of temperature from the outside to the inside.
ProTerm is an ecofriendly insulation, 100% recyclable, patented and with a very low thermal conductivity index that avoids sudden changes during exports. This system is installed in the containers in an easy and fast way.
ProTerm is the new and revolutionary 100% ecological isothermal insulation system through which you can avoid sudden changes in temperature without having to use special containers.
ProTerm Pallet covers for pallets are ideal for avoiding sudden temperature changes during groupage or air shipments. They are available in different standard formats and with the possibility of custom manufacturing.
Isothermal insulators are used to maintain a constant temperature in a given area. These materials are used to thermally insulate an area, preventing the transmission of heat to the interior or exterior.
Isothermal insulators are made with a variety of materials, such as polyurethane foam, mineral wool, glass wool, ceramic fiber, etc. These materials are selected based on the level of thermal insulation and the required applications. Isothermal insulator specifications typically include:
* Thermal resistance
* Density
* Thermal conductivity
* Air retention
* Vapor diffusion coefficient
* Fire resistance
* Operating temperature
* Long-term performanceIsothermal insulators for containers help to keep the temperature of stored products under control. These insulators protect the products from exposure to extreme temperatures, allowing a longer useful life of the products.