At J2 Servid we are committed to innovation and sustainability in the protection of goods during transport
Caring for the environment is one of the maxims of our company and one of the objectives for which we work daily.
With an R&D department focused on seeking more sustainable solutions, at J2 Servid we have an extensive catalog of recyclable and reusable products, which you can see on this website.
In our company. innovation plays a very important role, always thinking about improving the quality of our products and the possibility of manufacturing more sustainable solutions for the environment.
We have 100% sustainable products, such as Niupack, which has the FSC and PEFC certifications that allow us to certify that the raw material of forest origin that we use comes from forests managed according to sustainability criteria.
A step forward towards respect for the environment, sustainability and energy saving
The latest investments in sustainability that we have made have led to the reduction of energy consumption and the reduction of the carbon footprint in all our facilities. At the same time we have obtained the ISO Certificate to continue offering increasingly sustainable products.
ISO 14001
At J2 Servid we have the ISO 14001 Ecological Management Certificate along with the FSC and PEFC certificate for our product range.
Energy saving
The installation of photovoltaic panels together with the replacement of all the lighting and windows in the offices and warehouses have allowed us to reduce energy consumption in our facilities.
Carbon Footprint Reduction
At J2 Servid we carried out a study to optimize the organization of pallets and products in our warehouses and we have been able to achieve a 30% saving in the Carbon footprint.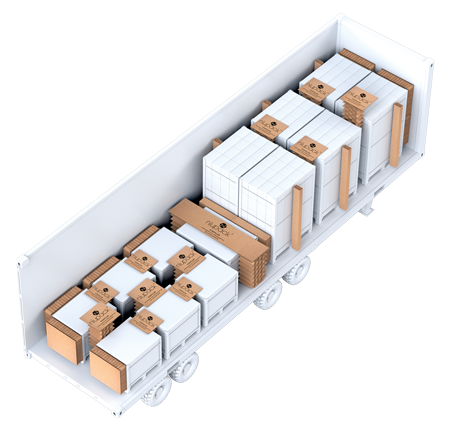 The most sustainable solution to avoid movement and tilting of goods during transport
Support local communities
We reduce the carbon footprint thanks to Tree-nation
At J2 Servid we want to continue collaborating with the environment and help reduce the carbon footprint to have a better future. Thanks to Tree-nation we can provide our own small contribution to nature. To date we have made reductions of up to 75% in our carbon footprint and have contributed to the planting of 2,678 trees around the world.
Join us to reforest the world
The easiest way for citizens and companies to plant trees around the world and offset their CO2 emissions.