ProBag
Inflatable dunnage bags
Protection and fixing of merchandise
The fastest, cheapest, most versatile and safest system to protect and secure merchandise in a container.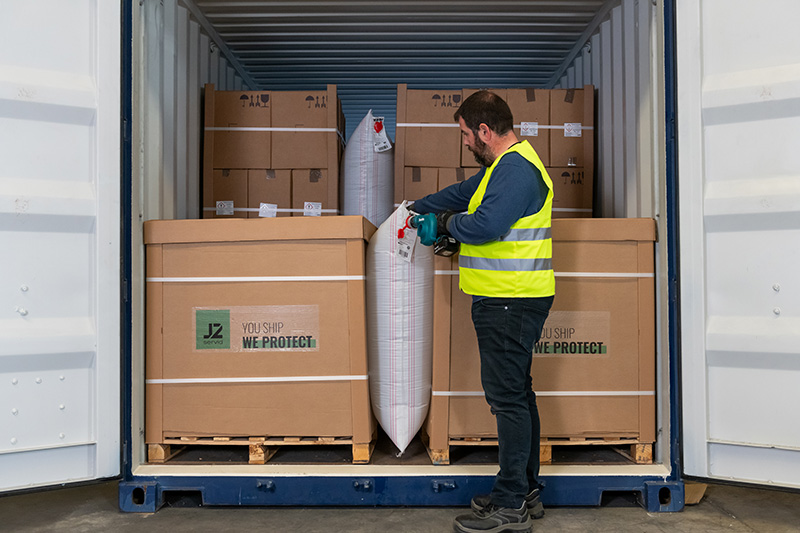 Why use inflatable dunnage bags?  
It is the fastest system for lashing goods.
It is a very easy application system.
The merchandise arrives at its destination without damage or claims.
They are suitable for trucks, trains, ships, containers, etc.
Different measures adaptable to all types of goods.
Different qualities of resistance (Up to 40 Tn.)
Available in different materials: Raffia and paper.
It is a very economical system thanks to its low cost.
Avoid damage to merchandise with dunnage ProBag
Inflatable dunnage bags prevent lateral and longitudinal movements during transport
Different manufacturing materials
These are bags or sacks made externally with materials such as paper and polypropylene raffia, and incorporate a valve to inflate them. Inside, they have a plastic bag made of polyethylene that retains the air, and they are available in various resistance levels.
Different sectors of application
Suitable for the glass industry, spirits, wines and beverages in general, food, chemical and pharmaceutical industries, paper industry, detergents, soaps, electronics, heavy industry, ceramics, perfumes, cosmetics, plastic coils, paper, metal, explosives, oils and lubricants, renewable energies…
Different levels of resistance
At J2 Servid we have a wide catalog of inflatable dunnage bags (more than 70,000 units in stock), with different sizes, materials and applications (from level 1 to 5 of the AAR certificate), and all of them with ISO certification. All materials and bags are provided with ISO 9001 and 14001 certificates.
Discover the inflatable dunnage bag that best suits your goods and the transport system
Our standard model of dunnage bags for lashing merchandise. With its placement, movements and damage to the merchandise during transport are avoided, whether in a maritime container, such as in a truck, train, ship's hold, etc.
This dunnage bag model is ideal for filling large gaps, especially in those loads where there is an odd number of pallets. Its main advantage compared to other types of dunnage bags is that it fills much more volume between loads, so resistance and effectiveness is much greater than in a standard dunnage bag. Product widely used in Reffer containers.
This inflatable dunnage bag has been designed for cargo lashing with very high pallets. It is a conventional dunnage bag, but it has a rigid and flat support at the top, which allows the bag to rest between the pallets during inflation. It incorporates a rigid upper panel so that the bag remains suspended, so that it stands alone.
As its name suggests, this dunnage bag has an adhesive system on the back to stick the dunnage bag to the pallet or container. In this way, the bag is held during its inflation process.
One of the newest dunnage bags from J2 Servid. It is the union of two dunnage bags by a layer of raffia. This innovative system acts as a block at the end of the load, preventing the merchandise from moving backwards. Product widely used in Reffer containers. Its Y-shaped inflation system allows both bags to be inflated at the same time.
This inflatable dunnage bag model, also adhesive, is manufactured according to the needs of the client and tailored to the 20′ and 40′ container. It is ideal for very long loads, since with a single product we protect the merchandise without the need to use multiple dunnage bags.
Similar to our ProBag Square model, this lashing system is made up of two dunnage bags joined by two raffia straps. Unlike the previous, this model is designed to fill gaps between merchandise of up to 100 cm. Product widely used in Reffer containers.
Ideal dunnage bag for very light goods, made exclusively with virgin plastic and without the outer layer of polypropylene raffia.
At J2 Servid we have a wide range of tools for inflating and caring for our dunnage bags, as the dunnage bag inflator. Our sales representatives will advise you on the accessories and tools to use the our dunnage bags easily and comfortably.
Container inflatable bags are a type of inflatable bags or dummy bags used to protect and cushion containers during transportation. These bags are designed to absorb shock and impact during transport, protecting containers from damage and breakage. These container air bags can also help reduce noise and vibration during transportation.
Additionally, these inflatable dunnage bags can be used to insulate containers from external temperature changes, helping to keep the internal temperature stable during transportation. They also offer excellent protection against moisture, dirt and corrosion. They are a useful security measure to protect containers from damage and breakage during transport.