ProDry
Cargo protection desiccant
Avoid the damage of the "rain effect" with our range of desiccants
Desiccants to avoid humidity in maritime containers
Desiccants products ProDry Gel and Prodry Clay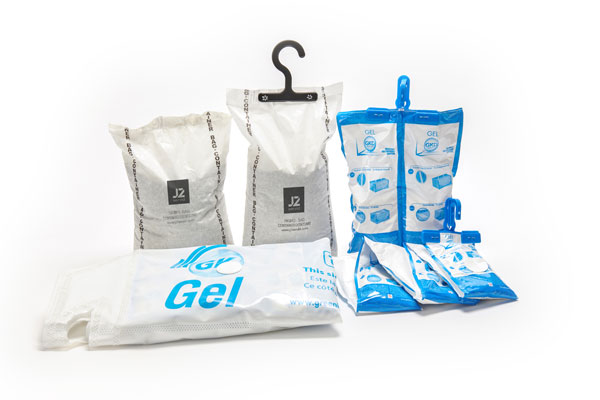 Why should I use container desiccant bags?
The humidity that is created inside maritime containers is one of the main problems and cause of claims in maritime transport.
This humidity can cause fungus, mold, corrosion, oxidation, dust on the merchandise.
Desiccants absorb moisture and make it easier for merchandise to arrive in perfect condition at its destination.
Avoid the "rain effect" with our range of desiccants
Moisture absorption in shipping containers
They avoid the "rain effect"
Inside the containers a "microclimate" is created due to the humidity of the air that facilitates the penetration of water vapor inside the packaging, a fact that can damage the cargo if it is not protected properly.
Desiccant bags for shipping containers are placed inside containers, outside of packaging, hanging or on top of pallets.
To avoid damage, at J2 Servid we offer a wide range of desiccant products for maritime containers, which absorb moisture and make it easier for the merchandise to arrive in perfect condition at its destination.
Different models of desiccants to protect your cargo from moisture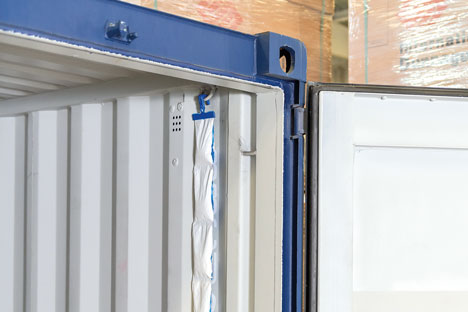 Concentrated desiccant with a very high absorption capacity, specially designed for maritime containers. It transforms humidity into a gel. The main advantages over traditional 2kg desiccants of clay are a shorter placement time (fewer desiccant bags need to be placed per container and less heavy), lower storage cost (occupies 4 times less space), does not ooze water once saturated and is suitable for food environments. Reduces carbon footprint and is available in various formats.
Available in Twinbag (500 gr) Stripe (750 gr i 1000 gr).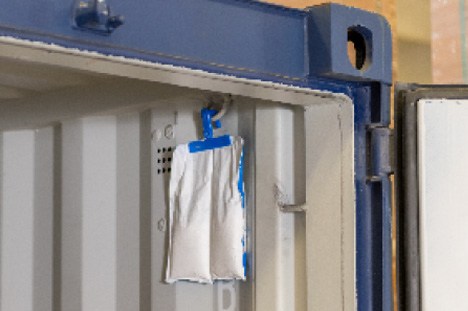 They are desiccant bags to protect the merchandise from humidity during transport in containers. The desiccant is composed of natural clay and calcium chloride. Under normal conditions, it is recommended to put 1 kg. per foot, that is, 20 kg. for 20′ containers and 40 kg for 40′ containers. The desiccant bags must be evenly distributed inside the container.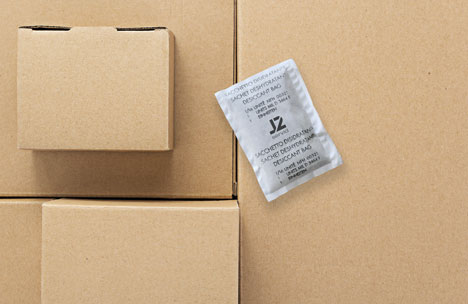 The ProDry Clay Pack is a natural clay desiccant to protect products from moisture inside closed spaces or packaging (boxes, bags, refills, etc.).
Very useful for chemical products, machinery, electronics, automobiles,… Available in various sizes and formats type A and type B.
ProDry

Vdry Absorbent blanket
J2 ProDry absorbent blanket is an ultra-absorbent blanket that acts as a waterproof barrier between your merchandise and the humidity that is created on the roof of the container, the so-called "rain effect". This revolutionary system can absorb up to 8 litres/m2 and is ideal for tropical destinations with high humidity.
Compatible system with ProDry desiccant bags.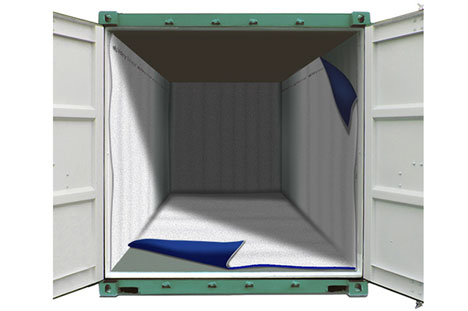 Vdry Liner has been developed as a comprehensive container lining to ensure goods remain clean and dry from loading until they arrive at their destination.
Unlike other container linings on the market, Vdry Liner combines lightweight and adsorptive materials with a mold-inhibitor to prevent contamination of goods.
Container Desiccant Bags are specially designed bags to help prevent condensation and moisture inside containers. These moisture-proof bags sit inside the container and absorb moisture, which helps prevent mold and mildew from growing on the container and stored products, which in turn helps keep them dry and free from damage.
These bags are very useful for storing moisture sensitive products such as food, medicines, and chemicals. In addition, they can also help reduce the formation of rust in metal containers.
Container desiccant bags are made of special moisture resistant materials such as polyester, polypropylene and microfiber that absorb and retain moisture. These moisture bags may also be filled with desiccant materials such as sodium silicate, lime, calcium chloride, and other materials that can be used to absorb moisture. These bags are designed to be reusable, so they can be re-dried and reused once the moisture has been absorbed.
These bags are low cost and help prevent damage to moisture sensitive products. They are also easy to use and can be easily placed inside the container.